Last updated on April 10th, 2023
With so many options available today, it can be tough to choose the best climbing sticks for saddle hunting. We've tried to make the process easier by doing our own research and breaking down some of the most popular sticks on the market, covering the specs and best features of each, then comparing those features with the price tag to help you decide which option is right for you.
Climbing sticks typically fall into one of two categories: mass produced and available at a relatively inexpensive price, or custom sticks with additional features and a significantly higher price tag. Our top choice is one that falls somewhere in the middle, offering a lot of great high-end features at a moderate price point.
Our Top Choice: Tethrd Skeletors
This is one of two Tethrd climbing sticks on our list for saddle hunters. The Tethrd Ones discussed below are what I currently use, and I truly believe they are the best sticks on the market. I'm not aware of any other climbing sticks in existence that weigh less than one pound each. However, they are also pretty pricey at over $300 for a pack of three.
Realizing that the Tethrd Ones are out of the price range of many saddle hunters, Tethrd went back to the drawing board and came back with their new Tethrd Skeletors. The Skeletors share a lot of the same features as the Tethrd One sticks, but at a much lower price point.
In fact, not only are they cheaper, but you get four of them as opposed to three. So why would anyone choose the Tethrd Ones over the Skeletors? Simple. Each Skeletor stick weighs twice as much as their Tethrd One counterpart. Saving weight comes at a premium when it comes to saddle hunting gear, especially climbing sticks.
---
Runner Up: XOP Ultra Series Climbing Sticks
XOP offers a wide variety of climbing sticks including a pivoting step, two-step stick; a fixed step, two step stick; and a pivoting step, three-step stick. For the purpose of this buying guide, we're going to look at the XOP Ultra Series fixed double-step sticks.
The XOP climbing sticks feature a unique slide-lock technology that allows you to neatly stack them on top of each other or flush side-to-side for low profile transport. The arch step design offers increased traction on crooked trees, and the pivoting XL standoff brackets ensure a solid mount. XOP's sticks are crafted from powder-coated 6061 aluminum.
---
Best Attachment Method: Muddy Pro Climbing Sticks
The Muddy Pro climbing sticks feature the peg-pack series that allows them to pack together with several of the Muddy hang-on treestands. Of course, that's not going to be real helpful if you're using them for saddle hunting! Regardless, each aluminum stick features built-in teeth for extra grip and a unique rope cam system for a quick and quiet installation. Like Hawk, Muddy is a part of the GSM conglomerate of outdoor brands.
---
Best High End Climbing Sticks: Tethrd One
As I mentioned above, Tethrd One sticks are what I use, and my only complaint since I've owned them is that a few of my StickLoc pins that hold the sticks together during transport broke. It was a common issue with when they were first released, but has since been resolved with new pins.
Tethrd One climbing sticks are crazy light at 15.9 ounces each. That's thanks to the titanium tubes and 6061 aluminum machined steps. I would recommend putting some Stealth Strips on the hollow tubes because they can be pretty noisy if you accidentally hit them together during setup.
---
Best Economy Sticks: Hawk Helium
Hawk is owned by a major outdoor conglomerate that also features brands like Ameristep, Big Game Treestands, Flextone, Hunters Specialties, Muddy, TruGlo, Wildgame Innovations and many more. With that kind of buying power, they're able to produce low cost products like the Hawk Helium climbing sticks. They've even recently came out with their own saddle hunting gear.
Hawk tends to get a bad rap from a lot of saddle hunters who feel the cheaper gear is inferior to some of the higher end brands. And while I have no doubt there are better climbing sticks on the market, the Hawks are hard to beat for the saddle hunter on a budget.
Hawk offers both a short 20-inch two-step climbing stick as well as a longer 30-inch three-step stick. Both sticks offer dual folding steps, a silent use Versa Button attachment method and 10-inch wide steps for plenty of boot room. I've listed the feature of each individually below.
---
Most Packable: Lone Wolf Custom Gear D'Acquisto Series Double Step Sticks
The Lone Wolf Custom Gear D'Acquisto Series Double Step Sticks are unique in that they are cut out of a single sheet of aluminum with an ultra-thin 1/2-inch profile. These sticks pack better than any on the market, locking together with a stud alignment system that results in three sticks only having a 2.5-inch profile.
The LWCG sticks use American made 6061 aluminum and feature a 250 pound weight rating. A little lower than the others on our list. The sticks attach to the tree via a micro versa button and cam strap. There's a rope fastening option available as well. LWCG offers these sticks in three lengths — 14, 17 and 20 inch — so the specs below will be for the popular 17-inch version.
LWCG also offers a pivoting step version of their stick as well that we don't cover in this article.
---
Beast Gear Climbing Sticks Mini
Most die hard saddle hunters are familiar with Dan Infalt and his "Beast" hunting tactics. What you may not know, however, is Dan has his own line of mobile, lightweight gear now, including his Beast Gear climbing sticks.
The 6061 aluminum sticks come solid or with machined holes for increased weight reduction and feature an Antler Foot design for a rock-solid grip to the tree and 9-inch double-sided Angled Step design for firm footing. They also feature a Delrin Beast Button for attaching the fastening strap to the stick.
---
Timber Ninja Sticks
You may not be familiar with Timber Ninja Outdoors, but they're making a name for themselves among mobile hunters. They recently released the industry's first carbon fiber climbing stick, the Timber Ninja Outdoors C1. Timber Ninja offers a truly customizable stick by allowing you to choose between 20- and 24-inch, multiple attachment methods, including a cam buckle strap or 6mm cord, and the option of adding a retractable aider to your stick. They also back up their sticks with an unprecedented 3 year warranty.
Of course, all these features do come with a premium price tag, with their carbon fiber sticks starting at $132/each. They do offer a little more affordable version in aluminum, but for the stats below, we focused on the C1 carbon fiber model.
---
Out on a Limb Shikars
Out on a Limb Manufacturing is another company you may not be familiar with, but one that has gotten a lot of attention lately for their products geared towards mobile saddle hunters. While they offer a couple different climbing sticks, for the purpose of this article, we are looking at their popular Shikars.
Like the Timber Ninja sticks, Out on a Limb allows you to customize your sticks with various lengths, straps, and you can even add a platform to the top step of your stick. Lengths offered (step-to-step) are 12, 14, 17 and 20-inch. The American-made sticks feature rotating standoffs up to 90 degrees, so you can mount them to just about any tree you may come across. Each stick also has a built in aider attachment hold located at the bottom of the stick.
If you're considering going with the Out on a Limb Shikar climbing sticks, keep in mind that there is a lead time of up to four weeks before they'll ship, so order early for deer season.
---
Features to Consider
When you think about climbing sticks for saddle hunting, it may seem they're all basically alike, making it tempting to base your decision on price alone. However, if you do your research, you'll quickly realize there are actually some major differences among the various options. Here are the key features we recommend investigating when comparing climbing sticks for saddle hunting that should ultimately help you make your final decision.
Weight
Probably the biggest factor when purchasing gear for saddle hunting is weight. The whole purpose of saddle hunting is to be lightweight and mobile, so you don't want to be weighed down by a heavy set of climbing sticks. Just keep in mind that light weight typically comes with a higher price tag as you probably saw in the products outlined above.
A lot of today's climbing sticks for saddle hunting are made of aluminum, but a few go above an beyond with expensive materials like carbon fiber or titanium. Ultimately you'll have to decide whether the lower stick weights justify the higher price tag. Just make sure when you compare weights that you're comparing apples to apples. Some manufactures list the weight of just the bare stick, while others include the attachment strap/rope. We've tried to identify which weight we've listed for each of the featured climbing sticks so you can make an educated decision.
Length
Not only does the length of your climbing sticks impact the overall weight, they also can impact the packability of the sticks as well. Longer sticks strapped horizontally to your pack can be a nightmare hanging on every sapling and vine you pass by, so keep that in mind when deciding what length climbing sticks you ultimately choose.
Climbing stick length also impacts how how you can climb with those sticks. Obviously, longer sticks with three sets of steps will allow you to climb higher than the same number of shorter sticks with just two sets of steps each. If the weights are fairly similar, I would much rather carry four shorter sticks than three longer ones just because of the shorter sticks are easier to pack, but that's just my personal preference. My recommendation would be to try both, if possible, and see which one best suits your needs before you drop your hard-earned money on your own set.
Weight Limit
This is not going to be an issue for most saddle hunters, but it's something to keep in mind. Most all of the climbing sticks discussed above have the same 300-pound weight rating with the exception of the LWCG sticks that only have a 250-pound rating, and the XOP sticks which have a 350-pound rating. My guess would be all these figures are pretty conservative, but I wouldn't recommend exceeding them regardless.
Step Configuration and Spacing
The final feature to consider when choosing the best climbing sticks for saddle hunting is the step configuration and spacing. While having single steps may shave a few pounds of overall weight, it may create issues when climbing or descending the tree. I prefer dual step models where I'm not limited in which foot I move up or down at any given time. It's also nice to be able to rest both feet at the same level when hanging your platform or adjusting your lineman's rope. In my mind, there's less chance of missing a step as you climb up or down the tree in the dark, too. For those reasons, I mainly featured double step models in this article, although several of the manufacturers offer single-step models if that's what you prefer.
Don't Forget Your Aiders
You may find that even with the three or four climbing sticks you end up with, you still can't get as high in a tree as you'd like in some situations. While you could certainly buy an extra step or two to remedy the problem, there's a cheaper and lighter solution: aiders. Aiders are made of rope, nylon strap, or cable and attach to your climbing steps to give you one or more extra steps.
Some saddle hunters just add an aider to their first climbing stick to help them start a little higher off the ground than they would otherwise, and others add them to every stick. I do the latter. I have a one-step aider on each of my three Tethrd One sticks. That's the equivalent of an extra one and a half climbing sticks at a fraction of the weight.
The one downside to aiders is that because of the materials they are made from, they move around easily and can sometimes be difficult to get your foot into. It took me several hunts to get comfortable using them and figuring out the best way to make sure I can get my boot in them every time. That's why some hunters just use on the first stick.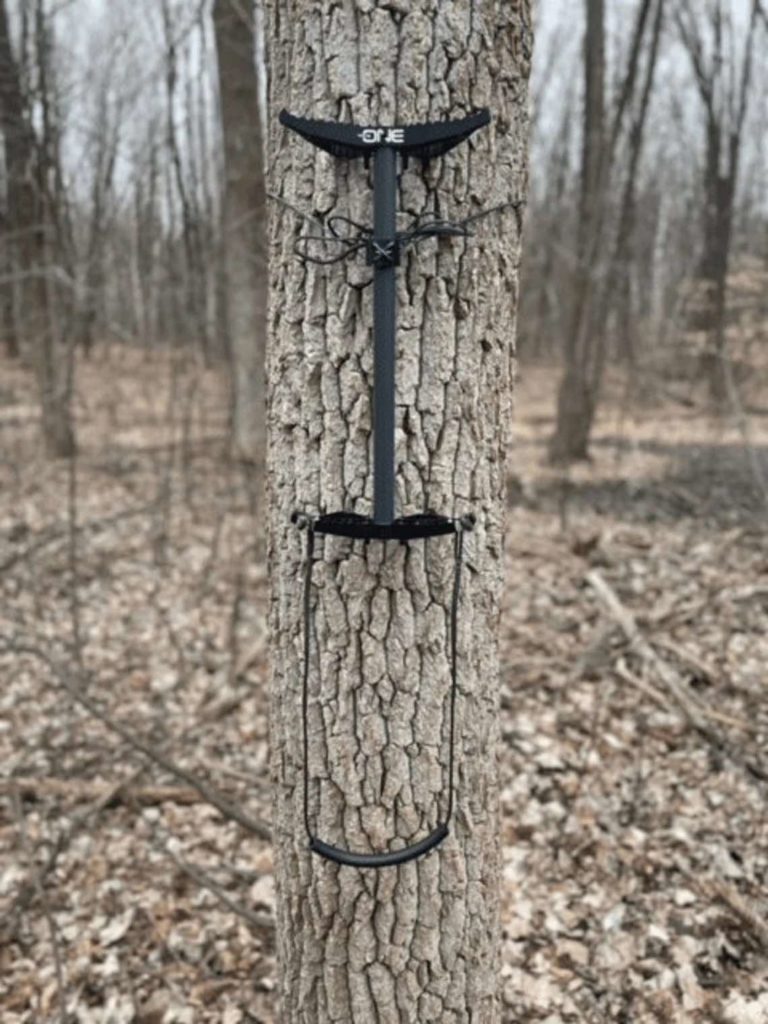 Final Thoughts
Choosing the best climbing sticks for saddle hunting can be a daunting task, but it doesn't have to be. My advice is, figure out what you can spend on them, and buy the sticks that best fit your needs in that price range. For me, it was all about weight and packability. For you, it may be more about maximum height in the tree and affordability. The fact is, you won't go wrong with any of the options discussed here. Some are better than others, but they will all get the job done.
If you have experience with these or any other climbing sticks, we would love to hear about it in the comments section below.